Caire FreeStyle Comfort Portable Oxygen Concentrator is designed with smart oxygen delivery, unmatched comfort, and a durable design. This oxygen concentrator features a slight curve for an ergonomic contour to the body as it is held. It comes with a convenient carry bag with a non-slip shoulder strap so it can be held confidently in place while shopping or traveling. Caire Portable Oxygen Concentrator is easy to operate with simple, one-touch technology to start the device. FreeStyle POC keeps the user comfortable and worry-free by adjusting to automatically breathing patterns and level of activity. This portable oxygen concentrator makes travel and activity outside the home comfortable and easy.
What does FreeStyle Comfort Oxygen Concentrator include?
Portable oxygen concentrator
Carrying bag
Rechargeable battery
Power supply with AC input cable
DC power cord
Shoulder strap
Cannula (7-foot)
User manual
Benefits of FreeStyle Comfort Concentrator

Compact and Lightweight
At only 25.4 cm tall and 2.3 kg, it is similar in size to a book and weighs less than a purse

Ergonomically Designed
Body-skimming, curved silhouette reduces swinging and bouncing.

Lasts All Day
The 8-cell battery pack lasts up to 8 hours and the 16-cell battery pack lasts up to 16 hours

Quiet
At 39.9 dBa the sound level is slightly more than a whisper and less than a refrigerator

Easy-to-Read Display
Large fonts, multi-color LCD display and glow-in-the-dark keypad.

Enables Airline Travel
Meets FAA requirements for commercial airline travel.
Why choose Caire FreeStyle Comfort POC?
Smart technology to ensure saturation –

autoSAT – It is an automatic titration to patient's respiratory rate
autoDOSE – It is a safety feature to ensure automatic delivery of oxygen even if no breath is detected to avoid any gaps in your therapy
UltraSense – It offers sensitive breath detection ensuring you get oxygen even if your breath becomes shallow
myCAIRE – It is a secure, telehealth solution offering you the ability to take control of your oxygen therapy

Flexible flow rates to adjust to changing needs – With 5 settings and up to 1050mL of oxygen per minute, the FreeStyle Comfort offers flexibility in treatment options covers broad range of prescriptions.
Reduced Maintenance Robust design – Features superior sieve bed technology reducing required maintenance.
Intuitive and easy to use
Only five pounds – weighs as much as a purse
Only 10″ tall
Ideal for use at home and abroad
Eliminates heavy tanks/cylinders
FreeStyle Comfort Concentrator Parts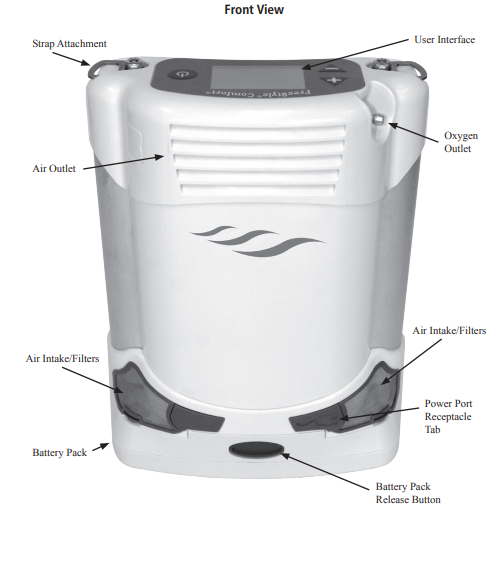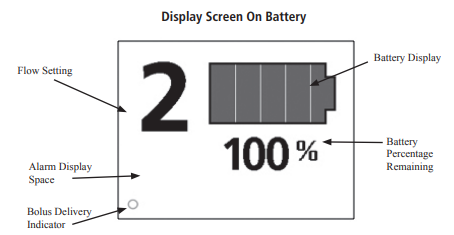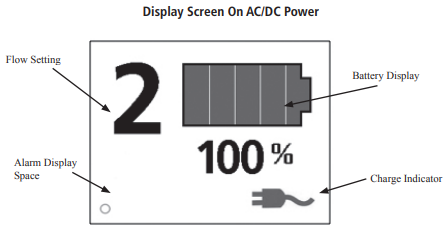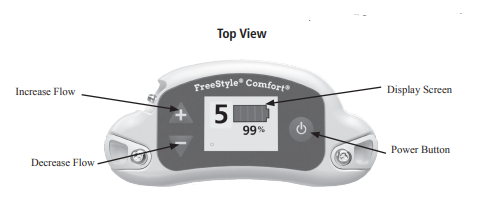 FreeStyle Comfort Optional Accessories
Additional 8-Cell Battery Pack
16-Cell Battery Pack
Desktop Charger
Carry-all Accessory Bag
When to use Oxygen Concentrator?
Oxygen therapy is used to treat a variety of health conditions, respiratory infections, and chronic breathing disorders affecting the lungs' ability to function properly. Your doctor may prescribe supplemental oxygen therapy for the following health disorders:
Chronic Obstructive Pulmonary Disease (COPD)
Pulmonary Fibrosis
Cystic Fibrosis
Pneumonia
Severe Asthma
Sleep Apnea
Benefits of Caire FreeStyle Comfort Portable Oxygen Concentrator
Lightweight, easily carried or pulled by cart
Wearable via a shoulder strap, or backpack, user can enjoy a round of golf, walking dog, playing a game of catch, gardening, etc.
Perfect choice for travel by car, plane, train, or cruise ship with a portable concentrator
How does Caire FreeStyle Comfort work?
FreeStyle Comfort draws room air into the machine through the air intake filters
The air then goes through a unique separation process that separates the oxygen from the nitrogen and allows only the oxygen to pass through to a collection reservoir
The result is an on-demand pulse flow of high concentration oxygen delivered to the user
The comfort delivers the highest flow rates of any wearable portable device and enabling users to get the oxygen in high activity situations
The small long-lasting battery is easy to charge and replace
Easy to read display located in clear view on top of the unit
The bright display is easy to see in the dark with large glow-in-the-dark buttons
The alarm system keeps track of multiple key functions to warn users of any issues
autosat feature measures breath rate in real-time and automatically adjusts the amount of oxygen delivered so the user can be certain to receive the prescribed dose every minute without interrupting the activity
ultrasense sensitive breath detection technology identifies even the faintest breaths to automatically trigger delivery so the user never misses a breath next. If the unit detects no breath from the user the auto dose feature automatically delivers oxygen pulses until the unit detects a normal breathing pattern
What to buy with Portable Oxygen Concentrator
McKesson Fingertip Pulse Oximeter
CareFusion AirLife Oxygen Supply Tubing with Crush Resistant Lumen
Drive Oxygen Mask
Caire FreeStyle Comfort Oxygen Concentrator FAQ's
Q. Why is a portable oxygen concentrator better than a traditional oxygen cylinder?
A. A portable oxygen concentrator provides you with more freedom and time away from home based on its ability to operate on both battery or electrical power (AC and DC), while cylinders offer a limited supply of oxygen, requiring you to carry multiple tanks.
Q. What type of maintenance does Freestyle Comfort Oxygen Concentrator require?
A. FreeStyle Portable Oxygen Concentrators require little to no maintenance. It is recommended to clean it once weekly. This only requires running it under soapy water and can be done in a matter of minutes.
Q. How do i know if FreeStyle Comfort is working?
A. CAIRE FreeStyle Comfort Concentrators have both visual and audible alarm systems to alert user if there is an issue with the device, or when the battery needs recharging. As long as no alarms are active, the device is functioning properly. Consult user manual for specific alarm conditions.At only 25.4 cm tall and 2.3 kg, it is similar in size to a book and weighs less than a purse
Q. How long will FreeStyle Comfort battery last?
A. FreeStyle Comfort battery lasts up to 8 hours with an 8-cell battery and up to 16 hours with an 16-cell battery at setting 1. Battery life depends on the flow rate.
At only 25.4 cm tall and 2.3 kg, it is similar in size to a book and weighs less than a purse
Q. How will I know the Free Style Comfort battery needs recharging?
A. Audio and visual notifications will alert you when the device requires charging.
FreeStyle Comfort AS200-1 User Manuals
Caire FreeStyle Comfort Portable Oxygen Concentrator User Manual
FreeStyle Comfort Quick Start Guide
Caire FreeStyle Comfort Portable Oxygen Concentrator Accessories Sheet
Containdications –
In certain circumstances, the use of non-prescribed oxygen can be hazardous
This device should only be used when prescribed by a physician
Not for use in the presence of flammable anesthetics
The oxygen concentrator is not appropriate for any user who would experience adverse health consequences as the result of such temporary interruption
As with any electrically powered device, the user may experience periods of non-operation as a result of electrical power interruption, or the need to have the oxygen concentrator serviced by a qualified technician
Pregnant or nursing women should not use accessories recommended in this manual, they may contain phthalates
How to care for Caire FreeStyle Oxygen Concentrator Device?
FreeStyle Comfort POC Device Cleaning
Turn OFF the unit and disconnect from AC or DC power before any cleaning or disinfection
Do not spray the outer case directly
Use a damp (not wet) cloth or sponge
Spray the cloth or sponge with a mild disinfectant solution to clean the cabinet and power supplies
FreeStyle Comfort Air Intake Filters Care
At least once per week, the air intake filters should be cleaned
Remove the two filters from the front of the FreeStyle Comfort by pushing up on the corresponding tab and pulling outward
Wash both filters in a warm solution of soap and water
Rinse the filters thoroughly and remove excess water with a soft, lint-free cloth. Ensure the filters are completely dry before replacing it
Re-install the clean, dry filters
FreeStyle Comfort Battery Pack Care
Do not allow the battery pack to be exposed to liquids
Keep the battery pack away from children
If your battery pack appears damaged, contact your oxygen provide before use
Do not place the battery in or near a microwave or other cooking appliances
At only 25.4 cm tall and 2.3 kg, it is similar in size to a book and weighs less than a purse
FreeStyle Comfort Cannula Replacement
At only 25.4 cm tall and 2.3 kg, it is similar in size to a book and weighs less than a purse
Replace the nasal cannula or oxygen tubing every 3 to 6 months (if daily use, 3 months)
At only 25.4 cm tall and 2.3 kg, it is similar in size to a book and weighs less than a purse
oxygen-concentrator,ariel-products,dettol-hand-sanitizer,whiskey,sterillium-hand-sanitizer,
At only 25.4 cm tall and 2.3 kg, it is similar in size to a book and weighs less than a purse
purell-hand-sanitizer,dove-products,drinks,hand-sanitizer-dispensers,pampers
At only 25.4 cm tall and 2.3 kg, it is similar in size to a book and weighs less than a purse
At only 25.4 cm tall and 2.3 kg, it is similar in size to a book and weighs less than a purse